S2E41 - Ku-Ruk Kombat
2 years ago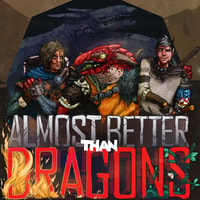 In the seemingly endless hallway of doors, our heroes encounter enemy soldiers sent to find them. How many soldiers were sent after them? Will they be able to utilize deplomacy? Find out on this week's ABTD!
Heard in this episode
Mike (DM) AJ (D'ani Venton) Bren (Ku-Ruk Lademan) Doug (Laryn Gitis)
Credit
Artwork by Ian McAfee
Theme music composed and assembled by Josh Stitt
"Intrepid" Kevin MacLeod (incompetech.com) Licensed under Creative Commons: By Attribution 3.0 http://creativecommons.org/licenses/by/3.0/
Support Almost Better Than Dragons by donating to the tip jar: https://tips.pinecast.com/jar/abtd
Find out more on the Almost Better Than Dragons website.
Send us your feedback online: https://pinecast.com/feedback/abtd/3c5819f8-bf52-4ff4-9463-df6b8d286085
This podcast is powered by Pinecast.