S2E40 - Door Buddies
2 years ago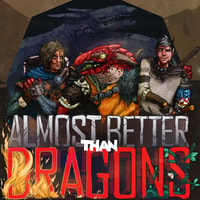 Our adventurers find themselves in a hallway of seemingly endless doors. Where do these magical doors lead? What actually is this place that they are in? Find out on this week's ABTD!
Heard in this episode
Mike (DM) AJ (D'ani Venton) Bren (Ku-Ruk Lademan) Doug (Laryn Gitis)
Credit
Artwork by Ian McAfee
Theme music composed and assembled by Josh Stitt
"Intrepid" Kevin MacLeod (incompetech.com) Licensed under Creative Commons: By Attribution 3.0 http://creativecommons.org/licenses/by/3.0/
Support Almost Better Than Dragons by donating to the tip jar: https://tips.pinecast.com/jar/abtd
Find out more on the Almost Better Than Dragons website.
Send us your feedback online: https://pinecast.com/feedback/abtd/69b30ef2-c79a-4a55-9840-00336b144eaf
This podcast is powered by Pinecast.